Over 41,000 financial instruments at your fingertips
As one of the world's most international stock exchanges, the Luxembourg Stock Exchange (LuxSE) gives you access to a world-class trading platform, offering a wide variety of financial instruments. From shares and fixed income instruments to funds, warrants and certificates – LuxSE is the market operator that connects the world's issuers and investors to a platform with over 41,000 securities and as many possibilities.
EUR 47.54 bn
Market capitalisation of domestic companies as of 31 December 2022
1,400+ bonds
traded on LuxXPrime
12,346
Number of new listings in 2022
Our approach as a market operator 
We make it our mission to provide you with everything you need when it comes to trading in international securities. Every client is different, with different needs and investment goals. We commit to ensuring the highest level of transparency as well as access to a wide range of instruments tradable via Euronext's secure and stable trading platform, providing you with the resources, tools and the vast choice in securities you need to meet your trading goals.
3 reasons to trade at LuxSE
Discover a wide variety of financial instruments to help you make your mark on international capital markets
Extensive product range
Looking to diversify your portfolio? No matter if you are a professional or retail investor, we have the right security for you among our 40,000 tradable securities.
Reliable trading platform
When it comes to trading, we know that reliability is key. That's why we operate our markets on Euronext's state-of-the-art OPTIQ trading platform.
Free access to real-time market data 
Real-time market data is provided at no extra cost for all trading purposes. We make access to information our priority.
Retail-sized bond trading with LuxXPrime  
In 2019, we established LuxXPrime to meet the needs of institutional and retail investors looking for opportunities to carry out retail-sized trades in debt instruments. Housed within the trading platform of LuxSE, LuxXPrime is dedicated entirely to retail-sized bond trading and offers highly competitive spreads on a selection of international bonds, including green, social, sustainability and sustainability-linked bonds. With the help of our Prime Liquidity Provider, EUWAX AG, we give brokers, asset managers, private banks and final investors access to attractive prices for smaller-sized trades in the fixed-income universe in one centralised and transparent place.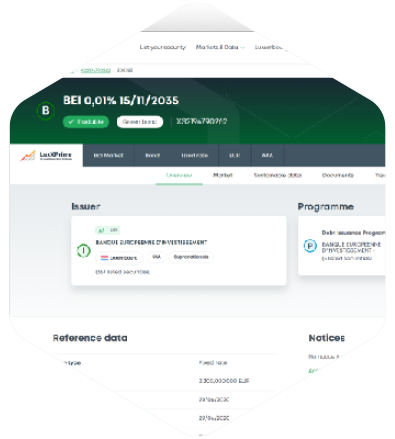 Meet our trading members
Trading at LuxSE is only granted to trading members of our exchange in order to uphold our guarantee of secure trading and transparency. Looking for an intermediary LuxSE trading member? Explore our full list.
Useful links
Liquidity providers and market makers
Non-executed orders screening systems