LGX DataHub
A world of structured sustainable bond data at your fingertips
With a global coverage of the world's listed sustainable debt instruments, the LGX DataHub brings you the sustainable bond data you need to build a winning investment strategy. Make better investment decisions with meaningful, structured and comparable sustainable bond data.
Why use the

Centralised hub
Explore structured sustainable bond data with a global coverage of the world's listed sustainable debt instruments
Better reporting
Get the most granular pre- and post-issuance data on the market to meet your needs when reporting on your investments
Greater analysis
Perform more comprehensive and in-depth analysis of sustainable bond data and make more informed and sustainable investment decisions
Actionable data
Analyse sustainable bonds with predefined filters and charts in our interface or export the data to Excel for more in-depth analysis
Free access to LGX DataHub dashboard
Our unique sustainable bonds database celebrates its third anniversary! To mark this special occasion, a comprehensive dashboard is now openly available to all for free, including:
Aggregated figures on more than 12,000 listed GSSS bonds from over 2,800 issuers
An overview of the number of issuers and bonds per country and region
Eligible categories of investment targeted by these securities as well as their intended contributions to the Sustainable Development Goals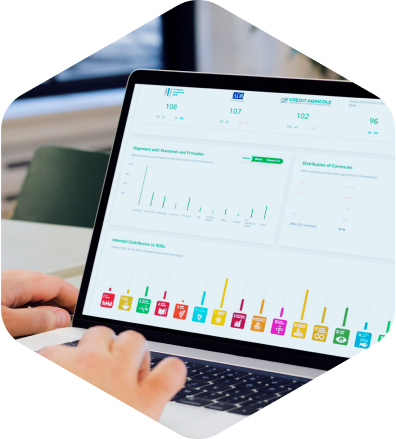 Granular, structured sustainable bond data
Explore the commitments made by issuers of sustainable bonds at the pre-issuance stage through data extracted from frameworks and external reviews. Find out how the proceeds of bonds are invested and what the positive environmental and/or social impacts are through the equally extensive post-issuance data on the LGX DataHub.
Search and compare sustainable bonds
Take your pick of almost every green, social, sustainability or sustainability-linked bond listed worldwide and explore how they compare to other sustainable bonds on the market.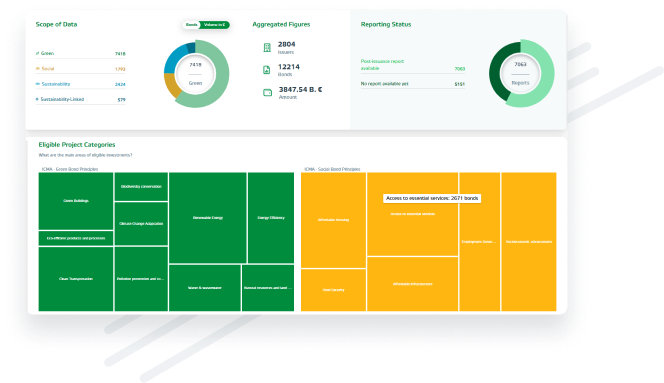 Built-in analytics
Our built-in analytics features allow you to make your sustainable bond search as narrow or broad as you like. Use the chart view function in our Data Explorer to visualise aggregated pre- and post-issuance data adjusted to your desired search criteria.
Explore the breadth and depth of the LGX DataHub with our sample factsheet featuring graphs that can be generated using real data from the LGX DataHub.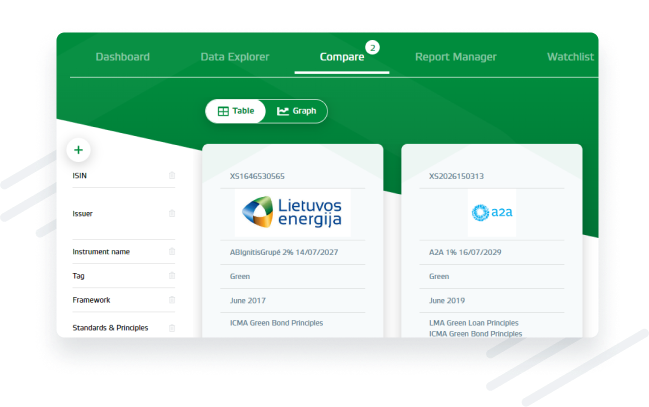 Subscribe today!
Take your sustainable investment journey to the next level with the structured sustainable bond data from the LGX DataHub. Whether you want to explore all the functionalities that our online platform has to offer or simply receive data via an automated feed, view our subscription options or get in touch with a member of the LGX DataHub team to start your subscription today.
Curious to learn more?
Reach out to our experts to find out how you can take the next step in your sustainability journey.