Green, Social and Sustainability (GSS) Bonds Executive Training
Encouraging banks to embrace sustainable finance practices
The International Finance Corporation (IFC) has partnered with Luxembourg Stock Exchange (LuxSE) for its upcoming cohort of the Green, Social and Sustainability (GSS) Bonds training. This globally distinctive executive training programme focused on GSS bond issuance, will take place in Luxembourg during the week of 22 October 2023.
The training
The GSS Bonds Executive Training is an exclusive programme offered by invitation only to selected leading global banks from emerging markets. The training aims to provide deep insight on GSS bonds issuance and the underlying drivers of sustainable finance. The programme contains classroom-based learning materials and dynamic learning components such as guest speakers, case studies, interactive discussions and an investor pitch simulation.

The training will be delivered in person in English over a period of 3.5 days from Monday 23 October to Thursday 26 October 2023.

For more details on registration please consult the GSS Bonds Executive Training brochure below.
Actionable guidance
Prepare global financial practitioners from emerging markets with theoretical knowledge and practical tools to increase issuance of green bonds.
Sustainable finance considerations
Strengthen financial institutions' position in sustainable finance, allowing them to unlock new opportunities and contribute significantly to addressing environmental challenges.
Sustainable finance related products
Optimise the impact of GSS bond issuances by developing a comprehensive understanding of the dynamics involved in originating and identifying underlying assets, with a specific focus on green loans.
Sustainable finance awareness
Increase participants' awareness around the importance of creating a sustainable development strategy and how banks can and must be part of the solution. 
How to join the programme
Invite-only training executive programme
Green, Social and Sustainability (GSS) Bonds Executive Training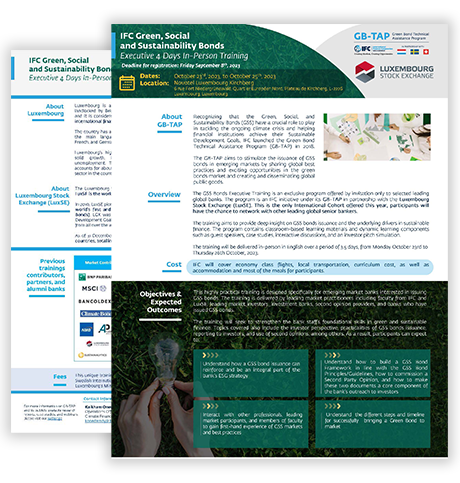 Why LuxSE and LGX Academy
Home of Sustainable Finance
A wide range of labelled bonds
LuxSE is the leading listing venue for international debt instruments. As such, it was the listing venue of the first green bond issued in 2007 and is now the home of more than 1,700 GSSS bonds displayed on LGX. 
The reference platform
In 2016, LuxSE became a pioneer  by creating the Luxembourg Green Exchange (LGX) - the world's first and leading platform dedicated exclusively to sustainable finance instruments (GSSS Bonds).
Unrivalled sustainability insights
LGX launched the LGX Academy to share knowledge with market participants on best practices in the GSSS bond market with a growing focus on emerging markets through dedicated partnerships and capacity building programmes.
Why Luxembourg
Recognised worldwide for its commitment to sustainable finance and green bonds, Luxembourg stands as a prominent global leader in this area. Within the finance sector, numerous actors have consistently been at the forefront of developing sustainable business models, launching innovative initiatives, and implementing sustainable investment practices. In 2016, LuxSE showed this trailblazing mentality by launching the Luxembourg Green Exchange (LGX), the world's first and leading platform dedicated exclusively to sustainable finance.
Background
On 28 February 2018, IFC and Amundi, Europe's largest asset manager, successfully launched the world's largest targeted green bond fund focused on emerging markets, the Amundi Planet Emerging Green One (EGO Fund). IFC supports the EGO Fund through a Green Bond Technical Assistance Program (GB-TAP), which is a technical assistance programme funded by donors.
Under the GB-TAP, IFC is providing trainings for GSS bonds to staff of selected financial institutions active in the emerging markets.